Kinesiology (pronounced kin-easy-ology) is a holistic natural therapy. It combines theories and knowledge from various modalities such as traditional Chinese medicine, physiotherapy, chiropractic, naturopathy and counselling. What makes kinesiology unique is that it uses muscle monitoring/biofeedback to tailor each treatment specifically to you.
A fundamental premise of kinesiology is that the body is at all times doing its best to care for and heal itself – sometimes it just needs a bit of help to achieve this.  
The definition of 'equilibrium' is: "a state of physical balance, emotional and mental composure" which is such an apt description of the benefits and outcomes of kinesiology and what I aim to achieve for clients.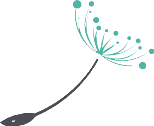 Similarly, our logo the dandelion embodies letting go and starting something new. It's symbolic of clarity, cleansing, new beginnings, positivity, progress and survival – all perfect for what we're trying to achieve. It reminds us that life is delicate so to enjoy every moment and make the most of it.